Helping customers grow with green solutions
Date: 20/03/2020
Changing the color of plastics to green with bioplastic.
Helping customers grow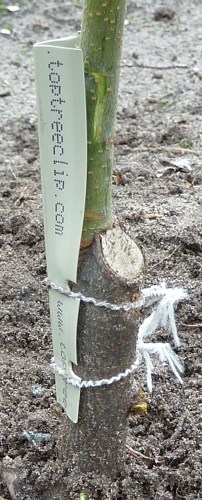 Therefore, Primo worked in close partnership with a customer to develop an eco-friendly alternative to one of the essential tools of the trade. Namely, a small profile that helps trees to grow straight up. This bio-clip – called Toptreeclip – guides the small tree, and after the clip has done its work there's no need to remove it from the tree afterwards.
Lending the trees a green hand
"The profile guides the growing trees, and the big advantage is that with the 8 cm long clip the trees can be left alone for several months. It is extremely valuable when you want the tree to grow straight and bigger," Minco Riemersma says.

"Traditionally, greeneries and plantations have used profiles made of PVC. They are not precisely eco-friendly, and it takes a lot of manual labor to collect them when they are no longer needed. Daily individual inspection is no longer necessary. We developed a version made from extruded biodegradable plastics that fades away when the trees are ready to be sold.
The new product – Toptreeclip – basically becomes part of the soil after use and does not leave hazardous chemicals or other residues.
"We call the material bioplastics. It is entirely sustainable, which is also of great significance to our customer," says Minco Riemersma.
Recycling at the supermarket
The Toptreeclip is not, however, the only example of how Primo helps customers and partners expanding their green footprint.
For instance, Minco Riemersma and his teams cooperated closely with a large chain of distributors for grocery and retail stores in the development of a new kind of scanning profile. That is the small, translucent clip that holds a paper slip with barcodes, prices and names of products on the shelves.
Scanning profiles are usually made from PVC and have a pretty short life span. Often, it is necessary to exchange them every two months as they become dirty or scratched. But since most chains like to have their logo or company-color on the back – while the front is translucent – it is quite hard to recycle traditional profiles efficiently.
"Instead, we designed a new type consisting of two parts: A colored back and a translucent front. With the backpart made of fully recycled plastics customers are having a sustainable choice – and you only have to change the front, not the entire profile," Minco Riemersma says.

"The development of recycled scanning profile as well as the biodegradable Toptreeclip have been very satisfying. Not only have we been able to combine modern extrusion-technology with innovative product development in close cooperation with customers. But we have also succeeded in making a real difference by making it far easier for our customers to cut down on waste and usage of non-environmentally friendly materials," he explains.

"Furthermore, both products are great examples of customers no longer viewing reusable materials as inferior. On the contrary, customers demand sustainable solutions, and they are willing to go the extra mile to expand their green footprint."
Headquartered in Copenhagen, the Danish group has sales and production activities at 11 locations in Europe and China. The group currently has 980 employees and a turnover of 205 million EUR (per 31.12.2022). The company was founded and owned by the Grunnet family and, since its beginning in 1959, has specialised in designing and producing customer-specific profile solutions in plastic.