Date: 12/12/2022
A busy year closes. New premises in more countries. Closing down in Russia. Now we are busy getting ready for closing days and the Christmas Holidays.
A lot happened for Primo in 2022. For instance:
Primo Germany opened new premises in Buxtehude near Hamburg.
In Finland, we relocated and moved to a new high-tech 11,398 m2 facility, while we sold off our Russian entity in St Petersburg. Primo Poland was also afflicted by the the situation in Ukraine and are supporting their Ukrainian neighbours in more ways, both financially and literally. In China, we're still afflicted by the COVID19 pandemic. 
In Sweden, Primo acquired another extrusion company, Talent Plastics in Gothenberg, and Primo Sweden was certified to deliver to the automotive industry following the IATF 16949 quality management standards.
Primo Denmark expanded through the acquisition of German epsotech's entity in Denmark. We are now building the group's new Technology and Innovation Centre on Primo Denmarks expanded premises. 
Primo Netherlands increased its activity within the water treatment industry, including participating at one of the leading trade shows IFAT in Munich. Indeed, it was an exhibition year for Primo, joining the most important European trade shows. 
We are now looking forward to another exciting year ahead of us.
Best wishes to all our customers and partners for a prosperous 2023!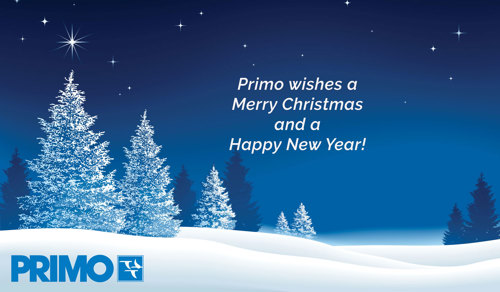 ---
The Primo entities will be closed for Christmas as follows:
Denmark:  21 December to 1 January

Finland: 23 December to 2 January
Germany, Berlin: 21 December to 2 January 
Germany, Hamburg: 24 December to 1 January
Netherlands: 23 December to 1 January
Poland: 24 December to 1 January
Sweden: 24 December to 1 January
Headquartered in Copenhagen, the Danish group has sales and production activities at 11 locations in Europe and China. The group currently has 980 employees and a turnover of 205 million EUR (per 31.12.2022). The company was founded and owned by the Grunnet family and, since its beginning in 1959, has specialised in designing and producing customer-specific profile solutions in plastic.